Unveiling 7 Latest Makeup Trends for 2024
Looking for the hottest makeup trends in 2024? You may want to jump on this.

By

Precious Umeasalugo

Edited by

Korana Braun
Updated November 16, 2023.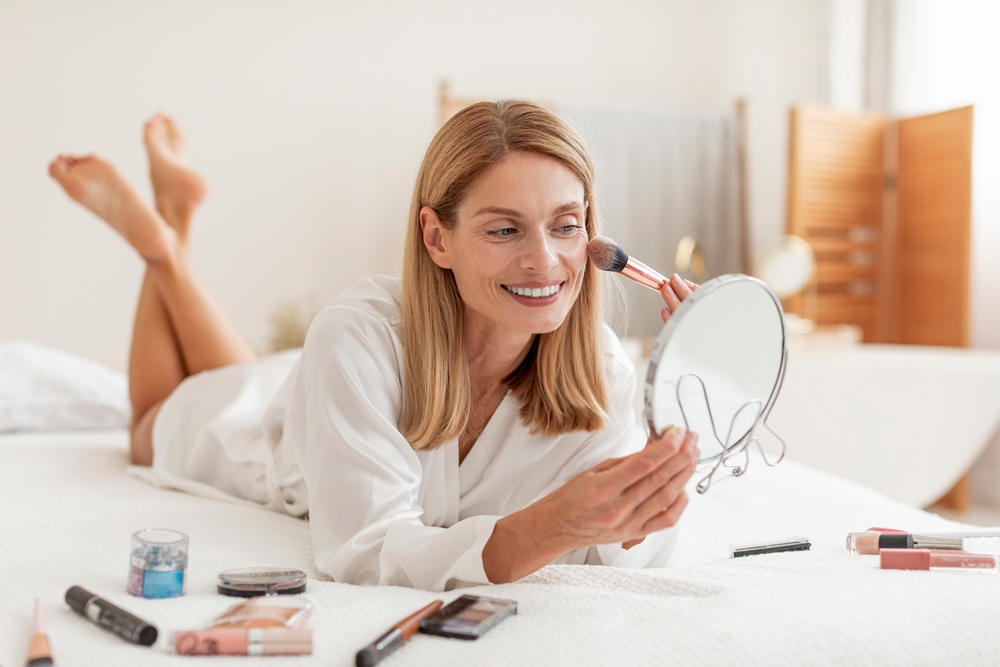 Whether you're a fan of the app or not, there's no debate that TikTok revolutionizes makeup and the trends we follow. From a celebrity's favorite blush to a new influencer-inspired lip combo, #BeautyTok is always there to give you much-needed inspo for your next look.
In 2024, makeup trends are anything but boring, as we've worn and created great looks for everyone—regardless of skin tone or hair type. Here are the seven latest makeup trends if you love platinum blonde brows or dewy, iridescent skin.
2024 Makeup Trends
1. Dewy skin makeup look
2. Bold blush look
3. Bleached brows
4. Bold lip
5. Metallic and shimmery eye makeup
6. Grunge glam
7. Faux freckles
With a dewy skin look, your skin looks radiant, youthful, and hydrated without looking greasy. And with this year's focus on minimalist and glowy skin, it's no surprise that the look is trendy.
To achieve a dewy skin look, moisturize with hydrating skincare-like serums and toners as your base. Then, use light-handed layers of makeup products such as luminous foundations, liquid highlighters, and cream blushes for a hydrated, natural look.
In 2024's makeup trends, blush has no hiding place on your cheeks. A bold rouge is easy to achieve, but you need to understand your blush placement and the appropriate shade for your skin tone.
Pink blushes work great on light skin tones, while peach and berry-toned shades are great for medium to deeply colored skin. It also helps to choose the right formula, like a liquid blush for high coverage or a cream one for a natural finish.


» Looking for a perfect blush brush? Check out our guide on makeup brushes
Thanks to TikTok, we've been bleaching our brows all year round. And we won't stop anytime soon. From editorials to runways, bleached brows are blond-toned with a stark contrast—especially on darker skin tones.
While you should bleach your eyebrows by a professional at a salon with some cream bleach, you can also get the look with concealer or a white eyeshadow base. The results are always hauntingly ethereal and chic.


Fall is the time for our coziest sweaters and bold lip looks. This trend stands out, with combinations like dramatic red lips against bare skin or purple cherry cola contrasted with dewy plain eyelids.
5. Metallic and Shimmery Eye Makeup
From gold and silver to glittery copper and emerald, metallic and shimmery eye makeup is 2024's hottest eye makeup trend. To achieve the look, you can try several products like liquid eyeshadow, powdery pigments, and even iridescent liners.
To make metallics and shimmers stand out, apply a black eyeshadow base or concealer to your eyelid before applying your shadows.
We never outgrew our goth phase; we just made it more fashionable. Grunge glam is a mix of edgy makeup and glamorous statement looks. Think Morticia Addams in Wednesday—smoky eye, smudged eyeliner, a bold lip, and a flawlessly done skin base.
Creating a dark eyeshadow look is also critical to nailing grunge glam, so note what shadows work best for your eye color, bold lip, and the rest of your edgy grunge look.


2024's hottest trends encourage minimalist, skin-like makeup. Faux freckles imitate the look of natural sun-kissed freckles. You can get this look by tattooing the freckles, using a pen, or dipping the round ends of a bobby pin into brow pomade and stamping onto your cheeks.
Some people also use liquid liners and brow pencils, but we recommend finishing this with some setting powder to reduce the luster and make it more realistic.


2024's Makeup Palette: A Canvas of Infinite Trends
Whether trying a bold lip in a color you've never done before or adding some faux freckles to your cheeks, makeup trends guide your journey to better makeup and self-expression.
Know what else is there to guide you? A monthly subscription to Klever Beauty Box. Get up to 8 full-size makeup products every month worth over $100 for just $28 and experiment with these trends to your heart's content.