A Guide to Different Types of Blush and How to Apply Them

By

Amber Henderson

Edited by

Dorian Rhode
Updated November 22, 2023.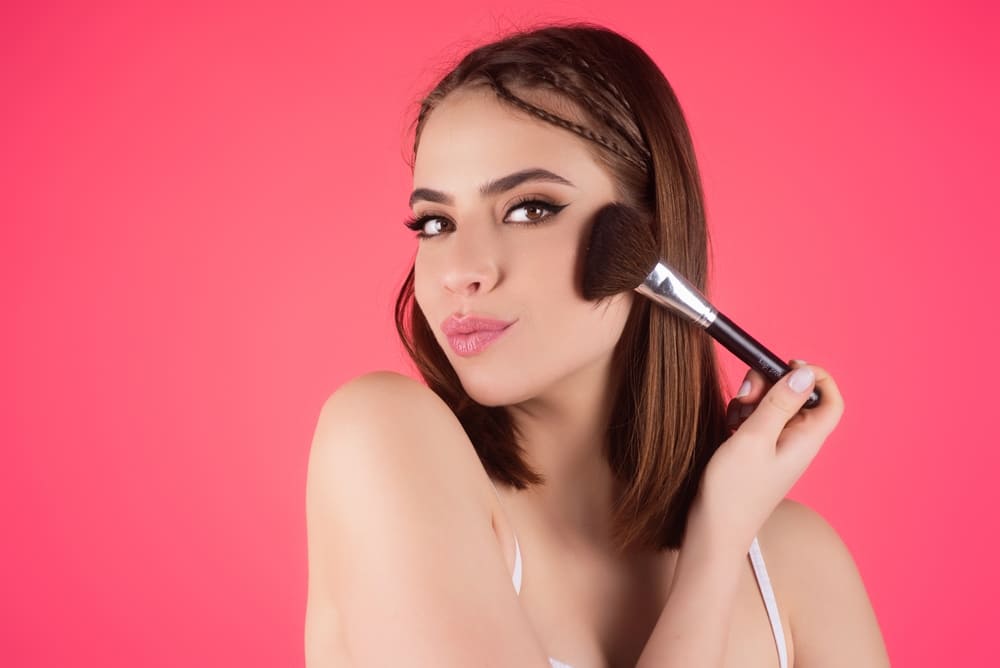 Blush is the cherry on top of your makeup routine—the key to a healthy and radiant complexion. It mimics a natural flush, enhances your features, and gives your makeup a polished look.
But with various types and textures available, selecting the right one can take a lot of research. That's why we created a guide with different blush types and how to apply them to achieve that perfect rosy glow.
» Looking to discover new makeup brands? Check out the best beauty subscription boxes
Liquid Blush: For Sensitive Skin
Often called tints, liquid blushes give you sheer coverage, long-lasting wear, and minimal transfer. They're usually water-based and gentle on sensitive skin.
Some makeup companies also use minerals like tourmaline and mica to give you a subtle—non-glittering shimmer. The result is a soft glow that adds color and creates a gentle look without overwhelming your skin.
Note: A liquid blush can help prevent breakouts and discomfort because you'll avoid the irritants like talc found in powder-based products.
How to Apply Liquid Blush
Prep your skin by cleaning and moisturizing

to help the blush glide smoothly and blend effortlessly.

Locate the apples of your cheeks by smiling

. They are the highest points below the cheekbones.

Apply liquid blush

and aim for a diffused look instead of a defined line. Use your fingers for precise control or a

makeup brush

for fuller coverage.

Gently blend the blush outwards and upwards

towards your temples to create a natural, seamless look that mimics a flushed complexion.

Add more blush in increments or remove some

with a makeup wipe if you've used too much.
» Looking to improve your makeup skills? Find the perfect blush placement
Powder Blush: Unmatched Versatility
Powder blush can adapt to various scenarios, whether you're heading to the office, a romantic dinner, or a casual get-together with friends.
It comes in various finishes, including matte, shimmer, and satin. You can also get it in multiple shades, from soft pinks to earthy browns. The versatility makes finding the perfect color to complement your skin tone easy.
How to Apply Powder Blush
Use a slightly angled brush

for enhanced curves and a fluffy texture for more control.

Locate the apples of your cheeks.

Apply the blush

and blend for a natural finish.

Add layers

to control your blush's depth and adapt it to different looks or moods.
Cream Blush: Youthful Glow
Our skin tends to lose some of its natural glow as we age. With a gentle touch and the proper blending technique, the best type of blush for mature skin becomes a cream one. It's designed to avoid settling into fine lines, ensuring a youthful appearance.
They can last for hours because of their creamy consistency, and you can layer them while maintaining a sheer, natural effect. Plus, you don't need to use a lot to achieve a healthy glow, which makes them a cost-effective choice.
How to Apply Cream Blush
Clean and dry your skin

, which will help ensure that your cream brush applies evenly and smoothly.

Dab a tiny amount of the blush onto the apples of your cheeks

using stippling—a gentle tapping motion that helps blend it into your skin.
Your Rosy Revolution Starts Here
Whether you prefer the delicate touch, luminosity, or versatility, you can achieve the perfect look for your unique style with these three types of blush. Makeup is an art form, and the goal is to find the techniques and looks that make you feel confident and comfortable.
With tools like the Klever Beauty Box, you'll be on your way to a radiant and glowing appearance. Embrace the versatility, find your ideal type, and let your beauty shine.
So, which blush will you choose for your beauty routine today?